Openprogramme
Know-How / Show-How Open Program
All lectures are open, and provided with translation in English & Bulgarian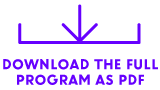 12.07.2016
Theater hall, Sofia University
(15 Tsar Osvoboditel Blvd, entrance from the bulevard, near the metro station)
7 p.m.
Presentation: "We Treasure" / Saskia van Drimmelen & Margreet Sweerts (fashion collective Painted, NL)
keywords: fashion design / choreography / craft techniques / experimental fashion
7:40 – 8 p.m.
Lecture: "The Garment as a sign. Semantics of the Bulgarian traditional costume" /
Svetla Rakshieva, PhD (Institute of Ethnology and Folklore Studies, Bulgarian Academy of Sciences)
keywords: Bulgarian traditional costume / symbols and ornaments
8:10 – 9:30 p.m.
Excerpts from the documentary: "No direction home: Bob Dylan", dir. Martin Scorsese, in English
—
13.07.2016
Academia Gallery, National Academy of Arts (1, Shipka str.)
7:00 – 7:45 p.m
Presentation: 'Besides that…' / René Put & Brigitte Gootink (Studio PutGootink, NL)
keywords: graphic design / communication design / editorial design / poster design
7:45 – 8:15 p.m.
Lecture: "The old manuscripts – art or/and craft" / Christina Borissova, PhD (National Academy of Arts, Sofia)
keywords: design of manuscripts / caligraphy / typefonts
8:15 p.m.
Movie screening: "Blow-Up", dir. Michelangelo Antonioni, 110 min, in English with Bg subtitles
—
15.07.2016, 6 p.m.
Sofia History Museum (1, Banski Square)
6 p.m.
Performance "Future roots"
The performance will be created during the weekly workshop with Painted in Sofia, called "Future roots". The results can be seen also as an exposition at the National Ethnographic Musem, July 16-22.
The workshop is organized in partnership with The National Ethnographic museum at the Bulgarian Science Academy, and with artisants, experts and craftsman.
6:30 p.m.
Exhibition "An insert on printed history"
Presentation of the results of the weekly workshop with Studio PutGootink, which explores the old manuscripts, part of the collection of The Sofia History Museum, and editions from 19th century, part of the museums scientific library collection.
The workshop is organized in partnership with The Sofia History Museum.
—
16.07.2016
Theater hall, Sofia University
(15 Tsar Osvoboditel Blvd, entrance from the bulevard, near the metro station)
Know-How / Show-How Podium
RE-Connect / Object in Context
12:00 – 12:30 / Welcome coffee and registration
12:30 – Official opening from the behalf of Program Europe, Sofia Municipality and Introduction by the moderators – Adriana Andreeva and Boyana Gyaurova (Studio Komplekt)
12:40 – "Waiting for the museum revolution!? – The Bulgarian museums in the postsocialistic times" / Dr. Iglika Mishkova, The National Ethnographic Museum, Sofia
13:00 – "1, 2, 3 Identities" / Linda van Deursen, Graphic design studio Mevis & van Deursen, Amsterdam
13:45 – "Working with past collections toward future designs" /Dr. Clémentine Deliss, independent curator in contemporary art and anthropolgy, curator of Dilijan arts observatory 2016, Armenia
14:30 – coffee break
15:00 – "FACING heritage"/ Jurgen Bey (Studio Makkink & Bey, NL))
15:45 – "Masters and Designers / Project Presentation Folkk" / Relja Bobić, Nova Iskra, Belgrade
16:15 – 17:30 / Creative discussion with all participants
18:30 / Networking drinks & talks @Swimming Pool Projects, 10 Tsar Osvoboditel Blvd, 5th floor (entrance across the Russian church)
—
19.07.2016
Academia Gallery, National Academy of Arts (1, Shipka str.)
7 p.m.
Lecture: "Listen to your subject, your camera will catch the story" / Vesselina Nikolaeva (BG/NL)
keywords: documentary photography / storytelling
7:40 p.m.
Movie screening: "Somewhere to disappear" (dir. Laure Flammarion & Arnaud Uyttenhove, 57 min., in English)
—
20.07.2016
Goethe-Institute, Sofia (1, Budapest str.)
part of the "City talks" series of Goethe-Institute Sofia
6 p.m.
Presentation-performance: "Mind About Matter" / Uta Eisenreich (NL/ DE)
keywords: video performance art / semiotics / photography / language
7 p.m.
Lecture: "Designing things as actor-networks: semiotics in action" / Stoyan Tanev, Associate Professor, Innovation and Design Engineering, University of Southern Denmark, Odense
keywords: participatory design / semiotics and design / actor-network theory
—
22.07, 6 p.m.
Natioanal Academy of Arts' Workshops (56 Dondukov Bulvd)
6 p.m.
Exhibition "Visssual narrative"
Presentation of the results of the weekly workshop with the photographer Vesselina NIkolaeva, who will help participants to create their own photography projects and tell their stories through them.
6:30 p.m.
Short-movies screenings "Show and Tell"
Presentation of the results of the weekly workshop with Uta Eisenreich as a program with short-movies, created by the participants under her mentorship.